For most parents, getting nutrition right is hard enough without companies marketing us products our kids don't need.
It's confusing. We already feel inadequate, as we try different tactics to encourage our toddlers to have one more bite of something – anything – with just a microgram of nutrients. Of course less than one per cent of toddlers eat enough veggies. So we are perhaps more susceptible to marketing from companies promising their product will provide our precious child with the essential vitamins and minerals to "meet their growing needs".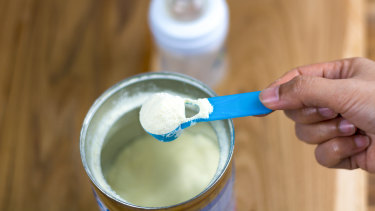 'Toddler milk' is unnecessary, but that doesn't stop marketers telling us it is.Credit:Getty
A new study analysed the increasing trend towards using "toddler milk", and the marketing practices that have helped to produce an almost tripling of its sales in the last decade.
The researchers, from the University of Connecticut, found advertising spend on marketing such products has increased four-fold over the past 10 years and the impact was concerning, and claims were not born out in fact.
"Extensive marketing of 'toddler milks' (sugar-sweetened milk-based drinks for toddlers) promotes unsubstantiated product benefits and raises concerns about consumption by young children," write the authors, in the journal Public Health Nutrition.
"Aggressive marketing of toddler milks has likely contributed to rapid sales increases," they wrote. "However, these sugar-sweetened drinks are not recommended for toddler consumption."
Toddlers 'no longer need infant formula and are perfectly capable of eating real food'.
In response to the study, Marion Nestle, the Paulette Goddard Professor of nutrition, food studies, and public health at New York University, wrote that toddlers "no longer need infant formula and are perfectly capable of eating real food".
Advertising such products, she insisted, "should stop. Right now."
Women's health and fertility dietitian, Melanie McGrice has a different perspective.
"As a foster mum I have personally used toddler milks with toddlers who I have cared for who have come to me with nutritional deficiencies and malnutrition," she says, "so I believe there is a place for them, but as a dietitian I see parents becoming more and more confused about what to feed their toddlers, and marketing can make knowing what to give your toddler even more confusing."
According to the American-based Healthy Eating Research program, toddlers should drink water and whole milk "which has many essential nutrients".
"A small amount of juice is OK, but make sure it's 100 per cent juice to avoid added sugars," they add. "Better yet, serve small pieces of real fruit, which are even healthier."
All children aged five and under should "avoid" toddler milks and formulas, they say.
Not only are they more expensive than real food, despite the marketing, they add little nutritional value.
It's another example of marketing providing a solution to a problem that doesn't exist.
As a parent, navigating the anxieties inherent in trying to ensure your kid gets some nutrients in their diets, I resent it, yet I can see how desperate parents would fall for the hard sell. We are desperate to get enough nutrients into them and we do worry about our kids' health, so we really are ripe for the picking.
Another new study suggests the best thing we can do if to ensure children get the nutrients they need is to eat together as a family and set a positive example by eating fruit and veggies ourselves.
Also, aiming to make healthy foods tasty and enjoyable, not getting suckered into power battles by giving ultimatums or creating anxiety around eating – the odd hot chip won't kill a child – can also help reduce the risk of long-term eating issues.
It's tough,  but trying to relax and ignore the marketing hype can only enhance our sanity and that of our toddler.
Dietitian Melanie McGrice's tips for toddlers
First foods are really important, but they don't need to be expensive. I recommend focusing on:
Start with iron-rich foods such as fish (without bones), broccoli and well-cooked eggs
Encourage your toddler to try a variety of different foods from the five core food groups (grains, vegetables, fruits, meat alternatives and dairy products) to develop his her palate
Include allergens such as fish, wheat, egg and nut pastes twice per week to boost their immunity against allergens
Encourage your toddler to sip on water between and after meals
If you have concerns about your toddler's dietary intakes, see a dietitian.
Body Language is our wellbeing column, examining trending issues in diet, health and fitness.
Source: Read Full Article