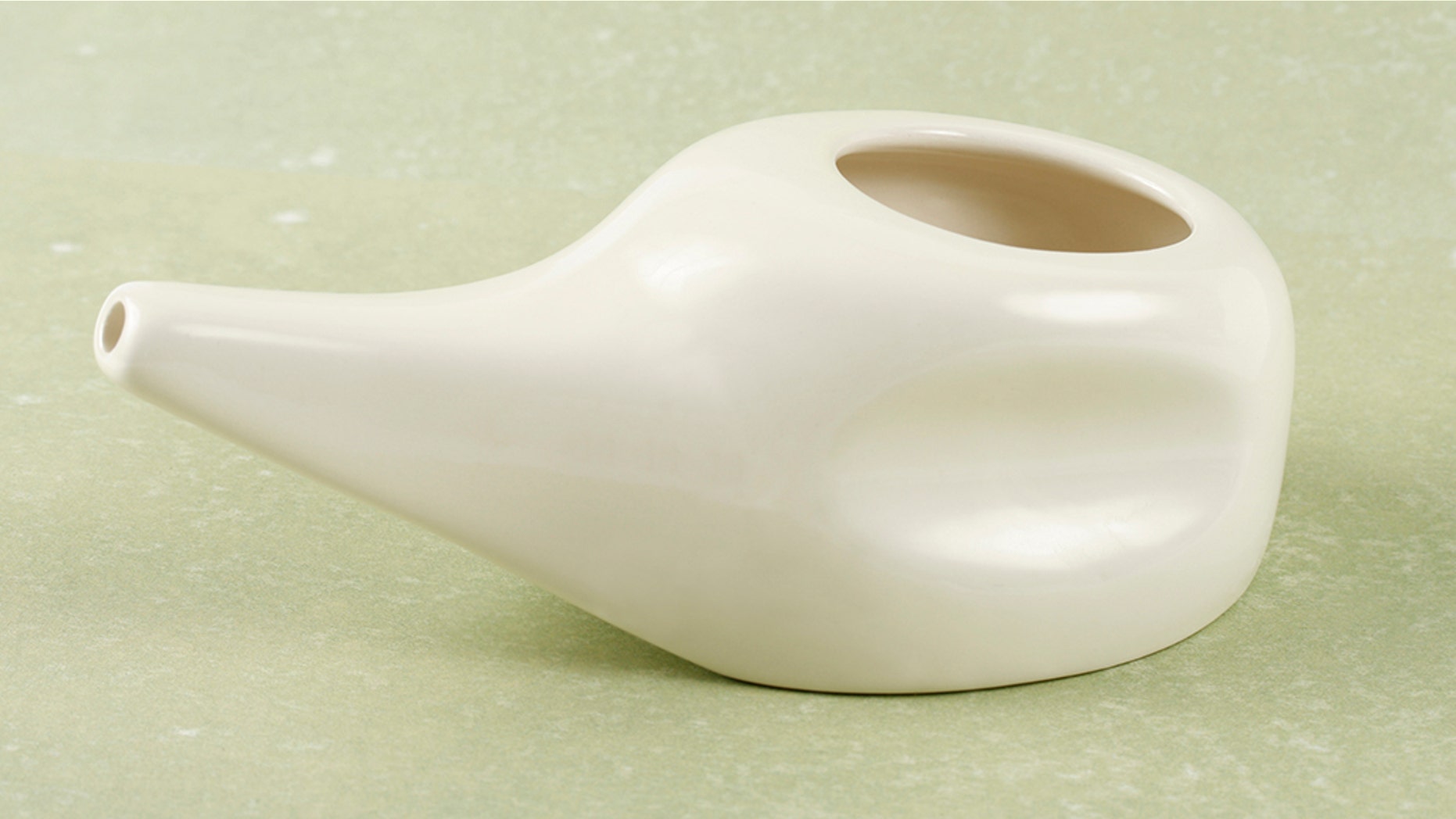 The woman filled the neti pot with tap water, doctors said.
(iStock)
A Seattle, Washington woman whose brain was partly a "ball of bloody mush" after rare brain-eating amoebas infected her likely contracted the organisms after she used a neti pot full of tap water to clear her sinuses, according to a report.
The woman, who was not been identified, was admitted to the Swedish Medical Center earlier this year after she had a seizure, The Seattle Times reported. An initial CT scan revealed what doctors believed was a tumor.
But they would soon learn that what was inside the woman's skull was not a tumor at all.
'BRAIN-EATING' AMOEBA THAT KILLED NEW JERSEY MAN LIKELY CAME FROM TEXAS WATER PARK: REPORT
"When I operated on this lady, a section of her brain about the size of a golf ball," Charles Cobbs, a neurosurgeon at the Swedish Medical Center, told The Seattle Times. "There were these amoeba all over the place just eating brain cells."
"We didn't have any clue what was going on," he added.
Tissue taken from the woman's brain during the procedure would later confirm the presence of the amoeba, specifically Balamuthia mandrillaris — which cause a rare but potentially deadly brain-eating infection known as granulomatous amoebic encephalitis (GAE), according to the publication.
The woman, who was 69 years old, died in February — roughly a month after doctors discovered the amoeba in her brain and about a year after she was initially infected.
According to a study recently published in the International Journal of Infectious Diseases, doctors believe the woman likely became infected when she used tap water in her neti pot, a teapot-like vessel used to flush out nasal passages.
BRAIN-EATING AMOEBA: WHAT IS IT, AND HOW DO YOU PREVENT CONTRACTING IT?
The contaminated water went up the woman's nose "toward [the] olfactory nerves in the upper part of her nasal cavity," The Seattle Times reported, which ultimately caused the infection which first appeared as a red sore on her nose.
"It's such an incredibly uncommon disease it was not on anyone's radar that this initial nose sore would be related to her brain," Keenan Piper, a Swedish Medical Center employee and co-author of the study, told the newspaper.
Health officials suggest using only distilled, sterile or previously boiled water to rinse sinuses. Tap water can contain tiny organisms that are safe to drink but could survive in nasal passages. That said, the woman's case was rare; there were only three similar cases in the U.S. from 2008 to 2017, according to the Center for Disease Control and Prevention (CDC).
The Associated Press contributed to this report.
Source: Read Full Article